Page 12 - Smartline eBook - Upgrading your home
P. 12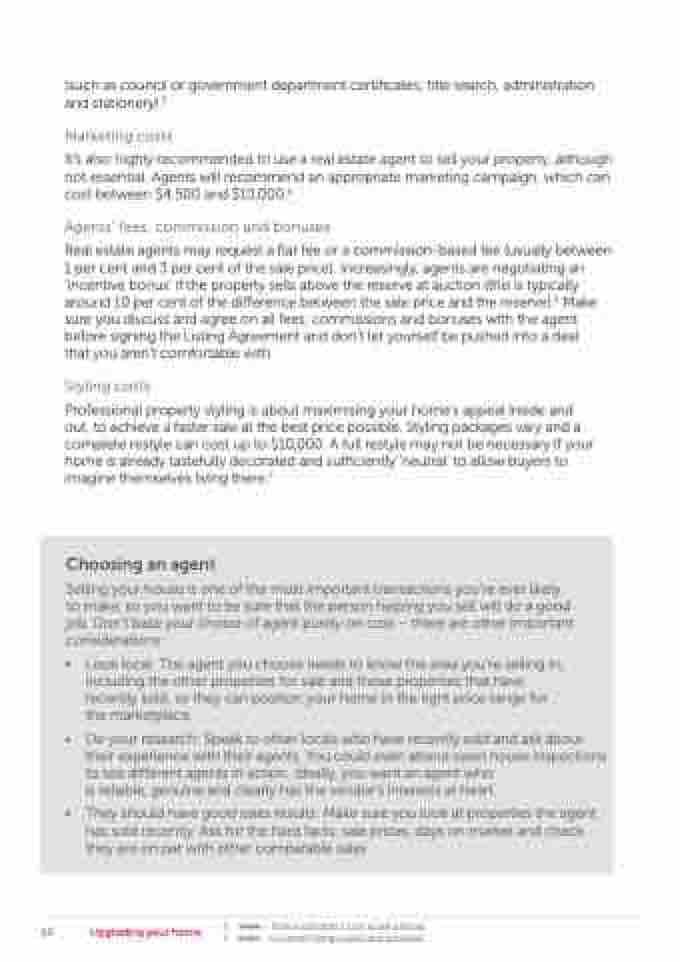 12
Upgrading your home
6. www – How much does it cost to sell a house 7. www – Is it worth hiring a stylist and furniture?
(such as council or government department certificates, title search, administration and stationery).6
Marketing costs
It's also highly recommended to use a real estate agent to sell your property, although not essential. Agents will recommend an appropriate marketing campaign, which can cost between $4,500 and $10,000.6
Agents' fees, commission and bonuses
Real estate agents may request a flat fee or a commission-based fee (usually between 1 per cent and 3 per cent of the sale price). Increasingly, agents are negotiating an 'incentive bonus' if the property sells above the reserve at auction (this is typically around 10 per cent of the difference between the sale price and the reserve).6 Make sure you discuss and agree on all fees, commissions and bonuses with the agent before signing the Listing Agreement and don't let yourself be pushed into a deal
that you aren't comfortable with.
Styling costs
Professional property styling is about maximising your home's appeal inside and out, to achieve a faster sale at the best price possible. Styling packages vary and a complete restyle can cost up to $10,000. A full restyle may not be necessary if your home is already tastefully decorated and sufficiently 'neutral' to allow buyers to imagine themselves living there.7
 Choosing an agent
Selling your house is one of the most important transactions you're ever likely to make, so you want to be sure that the person helping you sell will do a good job. Don't base your choice of agent purely on cost – there are other important considerations:
• Look local: The agent you choose needs to know the area you're selling in, including the other properties for sale and those properties that have recently sold, so they can position your home in the right price range for the marketplace.
• Do your research: Speak to other locals who have recently sold and ask about their experience with their agents. You could even attend open house inspections to see different agents in action. Ideally, you want an agent who
is reliable, genuine and clearly has the vendor's interests at heart.
• They should have good sales results: Make sure you look at properties the agent has sold recently. Ask for the hard facts: sale prices, days on market and check they are on par with other comparable sales.